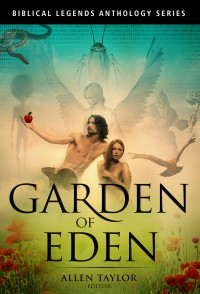 Another oddball small press that publishes an interesting series of anthologies called Biblical Legends, amongst others. I co-wrote a couple of stories with Tonya L. De Marco about two robots who go about doing horrible things to humans — enough so that they help to create some of the legends and mythologies we have to this day. "One Bit Off" appears in their Garden of Eden anthology, and "Garbage" appears in Sulphurings.
Garden Gnome has branched out from ebook-only to some limited print versions. I am always pleased when I have more print books that I can pile on a table at a convention. again, this is a way to sell copies to help pay for traveling expenses to conventions. Garden Gnome is a token-payment publisher, but they're fun to work with.
The name of the series always brings eyeballs to the table, especially folks who are religious. Their cover designer also is surprisingly good for a small press.