Sexual tension can always be expected in any romance or erotica story, but it can always work as a major or subordinate plot point for your speculative fiction work. While the ideas I point out here are not specific to any genre, they can be used in any work to spice things up.
So what exactly is sexual tension? It's not people and/or aliens going at it like Captain Kirk and the green-skinned Orion woman. It's everything that happens before the sexual act. Unfortunately, people don't really think about some of the details that go into an attraction, especially since we tend to be blind to it.
First Contact Protocol
When two individuals meet, there has to be some kind of signals sent and received that they find each other at least interesting. This is that "chemistry" thing movies and OKCupid accounts always go on about. Sometimes we don't even realize this is happening. Our brains flip a few switches associated with that person and puts it in the "this other person is someone I'm interested in learning more about" section of your memory.
To really get this across to the reader, you need to show some signs using all of the senses. In addition, using a point-of-view that allows poking around inside someone's thoughts will go a long way. Have them meet each other's gaze, which is extremely overused so make the situation unique. Maybe she smells something that makes her think of her first love, and it turns out it is the natural musk of a female Sklorr from Bernard's Star. Perhaps a man is working on a widget in the engine room and hears someone singing lightly to themselves in three-part harmony, only for him to discover it is a Gnork from Vega, which happens to be a gender-neutral species. Maybe two characters from different worlds bump into each other in the cantina and all they can think about is the feeling of feathers and scales brushing against each other. Get as much in there as you can, but spread it out a bit so you don't fall into the laundry list problem.
For many guys (and some gals), there is a "checking out the other character" moment. The other one may not even realize it, but there is certainly some ogling and appreciation for the form and figure. They have a strong visual mode tied to their sexual sensory input for their brains. This can be utilized to show at least one has some interest in the other character(s).
Go To Jail, Do Not Pass Go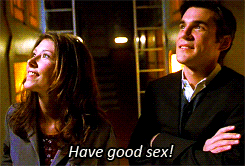 Since we're trying to ramp up the sexual tension, the characters cannot decide they like each other and start banging away against the main engine, although that worked great for Kaylee in Firefly. There has to be good reasons why they could never be together. It could be position — no, not that position, I mean one could be an officer and one enlisted. Maybe there's a taboo against being with that Sklorr… "I heard they eat their mates after they're done." One man may be on his way to Jupiter to start a new job as a special investigator while the Gnork from Vega is a jewel thief wanted in three planetary systems. There are plenty of options available to you, but make certain it is a good, logical reason.
Because they are definitely interested in each other in a romantic way, being forced apart will make them constantly think about each other, sometimes focusing on the little details. When we are smitten, we tend to experience everything our romantic other does as a performance. We note how one corner of their mouth doesn't curl up as much as the other when they smile, or how the tone of their laughter makes our hearts flutter (especially during Valentine's Day!)
Frustration and Calamity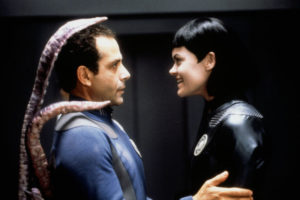 It's important that things keep getting in the way of the characters pursuing each other. If they were so close to each other that they can smell each other's toothpaste, have someone (such as the comic relief character) stumble into the room just microseconds before their lips were going to touch. Have the Sklorr set up a nice date with her human girlfriend, only to have the transport tube break down on the way to the restaurant. The human will be angry and wonder if her date stood her up, while the Sklorr will be frustrated that her romantic date she planned out in detail was ruined because of a tiny component she forgot to replace when she worked on the tube system this morning.
By keeping them apart when they're so desperate to be together, we create lots of sexual tension. The reader is wondering every time the two characters are in a scene together if they'll finally get to that all-important first kiss. You want to keep the audience guessing until late into the middle section of the novel. But will they go further? You can fill in those details at the (ahem) climax of the manuscript.